Sometimes I sit back and remember the days when I lived at home. Down an old dirt road, back in the woods. Our house sat beside a little creek where we fished and went swimming during the summer.
My Daddy always had a garden that he started in the Spring; where we'd pick fresh veggies and spend countless hours together.
I used to tell him that I would build a house along side the creek and we would open up a shop where we would sell the rockers that he built.(They're amazing by the way!!!) I used to promise him that I'd
never
leave our little "Emory Cove."
But...
Then I grew up.
I went and joined the Air Force and for 2 years worked for the government.
Eventually I met Mike and now I couldn't be anymore happier. I ended up getting out of the Air Force because I was pregnant. I couldn't bear the thought of deploying and leaving my babies at home. Even though I had a blast when I was in Kuwait...
I remember the faces of the parents when I was in Kuwait. They were always so heart broken.
So when Mike and I found out we were pregnant, we both agreed that I would separate.
So...now I am a
I wake up everyday knowing that my husband will always have a job. I now have the fear that he will be sent away for 3-6 months at a time and I will be here alone with my girls.
But...it comes with the job.
All I can say is..at least I've been on both sides of the fence.
So..now that you know a little about me (which there is more that I could share);
Welcome to HOPE ABOUND
This is my place where I share stories about my family life, recipes that we enjoying cooking, adventures that we endure, hard times, and the blessings of our life.
My name is Kristen.
You can join me on the weekends for my
Reflection Sunday
Meme. This where I look over the past week's happenings. So grab my button and join in.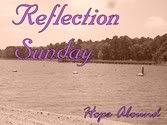 Thank you for stopping by. I hope you enjoyed your stay. Please come back and visit me. I love meeting new friends. It's always a blessing. I hope you have a wonderful Friday!!!! God bless!!!
For more, head over to
Riding the Rollercoaster