Next year is going to be big.
Like really BIG.
On the same weekend I turn 30, I will also be taking a big step and attending my first ever conference...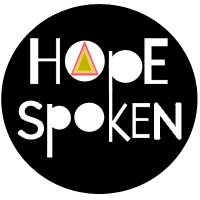 Nervous?
Yes
Scared?
A little
Excited?
Like you wouldn't believe
Ready?
I say bring it!
I'm going and I'm still having a hard time believing it.
I'm linking up with all of the other amazing women that are going and here's what we're sharing...
5 things for Hope Spoken:
- post your picture so that we can recognize you.
- something that you are little timid or nervous about for the weekend
- something that you are hoping to take away from Hope Spoken
- share something fun/random about yourself
--------- --------- --------- -------- --------
---Hi. I'm Kristen. This is my place; silly and surreal. I have 3 beautiful little ladies that trail after me day to day and call me Moma. My husband serves in the Air Force which has graciously stationed us in the luxurious Charleston, SC.
---I am a watcher. I enjoy listening to others and tend to forget to speak up. I'm nervous this might happen more than not. So if you see me and I'm not talking, just give me a little pinch. I'm also nervous about my story. I'm still figuring out my walk with the Lord and worry that I'll have nothing to share. Then there's, my babies. My husband will be deployed so I'm still worried about who will be there to care for them. Details are still being worked out. I'm praying I don't have to sell my ticket, but all in all, I'm leaving it up to Him.
---I want to shine for Him. I want all of my fear and anxiety to float away. I pray that this experience encourages me to step outside of my comfort zone more and to reach upward even more.
---When I was little, everyone joked that I would have twins one day. My grandparents even bought me a set of twin doll-babies. They thought they were so funny. Also, I love Mary Poppins, polka dots, and Dunkin Donuts Coffee. That is all.