Today is a fun event going on over at
Mom's Crazy Cooking
. It's a Macaroni and Cheese extravaganza! A
Crazy Cooking Challenge
where over 70 bloggers are linking up their favorite and most admired macaroni and cheese recipes to share with readers abroad. I've picked mine and have it ready to share with you. Make sure to
hop over
and see what everyone else has chosen for their favorites.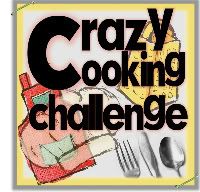 Growing up, macaroni and cheese wasn't that big of a deal. It's not one of those meals that stands out when I think of all the things my Moma is the queen of cooking. She just started making it here recently. Today, it's still not something that you'll see me oohing and awhing over. My husband, however, is totally the opposite. He loves it...could and would eat it everyday if it were possible. I think my girls took after me on this note, because each time we've offered them mac-n-cheese, they've snubbed their noses and spit it out. Strangely enough. But, what can you do.
In the most recent weeks, my Moma and Daddy have started eating Gluten Free in attempt to figure out some odd things that my Daddy is experiencing. If you're familiar with gluten free eating, it can be a tricky and stubborn road to go down. In hopes to help Moma and Daddy with their GF journey, I thought it would be neat to try a
GF Macaroni and Cheese recipe
from one of my favorite cooking blogs,
Simply Sugar and Gluten Free
.
Here's her recipe if you're not able to follow the link above.
Kosher salt
Light flavored olive oil
1/2 pound gluten-free quinoa elbows
2 cups of 1% milk
4 tablespoons (1/2 stick) unsalted butter, divided
1/4 cup
All Purpose GF Flour Blend
6 ounces Gruyere, grated (2 cups)
4 ounces extra-sharp Cheddar, grated (1 cups)
1/4 teaspoon freshly ground black pepper
1/4 teaspoon freshly grated nutmeg
1/3 pound fresh tomatoes (2 small)
3/4 cup brown rice bread crumbs
Preheat the oven to 375 degrees.
Drizzle oil and add 1 tablespoon salt to a large pot of boiling water. Add the macaroni and cook according to the directions on the package, 5-8 minutes. Drain well and rinse pasta with cold water.
Meanwhile, heat the milk in a small saucepan, but don't boil it. Melt 3 tablespoons of butter in a large (4-quart) pot and add the gluten-free flour. Cook over low heat for 2 minutes, stirring with a whisk. While whisking, add the hot milk and cook for a minute or two more, until thickened and smooth. Off the heat, add the Gruyere, Cheddar, 1 tablespoon salt, pepper, and nutmeg. Add the cooked macaroni and stir well. Pour into a 1 1/2-quart baking dish.
My Notes:
I did make my blend of flour. If you don't have to have it (meaning you can handle gluten) , a budget friendly suggestion...don't.

*smile*

I didn't have tomatoes. I forgot to buy them. I did without. It was still good.
I did use regular bread crumbs because the only store I found that had the ones needed was an hour away. Too far.
Other than that, this recipe is great. I am definitely going to recommend it to my Moma and Daddy to try. I'm pretty positive that they'll both (most importantly him) will enjoy it just as much as a classic or any other mac-n-cheese recipe.