Things are strutting right along with this little bun in the oven. No time for piddle paddle, that's for sure. With the girls doing laps around me, I'm doing all I can to keep up with everything. So far so good, despite all the recent happenings.
The belly has grown in conjunction with my appetite. Thank goodness for veggies and fruit and my recent success at homemade hummus.
I have only started one project for the nursery because that's all I've really had time for. The ideas are in my head, we just have to get in there and do it. We've looked at some things while out and about but have yet to really buy anything. The clothes are so cute though!!!
I have, however, made a list of things I want and need for the baby and her room and things that I need to do to help me get some sleep at night. You know how ideas can be when they run around like crazy. It's going to be so pretty, I just know it!
This past week, I got a sweet little something from a cheerful gal in Florida and her blog is called
We were swap buddies for the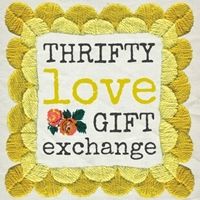 When the box arrived, two little someones couldn't help but get their little fingers all over it. You would've thought it was their goody box or something.
Tucked inside were some adorable thrifted items that I'm just tickled over. A set of Pyrex cups that will look perfect up on my shelf in the kitchen. A huge piece of silky type fabric that is definitely being used in the nursery and a vintage sheet that has the loveliest print.
She even made me a
little
note to say hello.
Thanks Jessie, you're such a sweetie!! You should pop over to her blog. She's a lovely gal and so sweet too!
I'm excited too for one extra reason today. I hopped on the band wagon and joined another little swap. This one is hosted by Kim over at ACuppaKim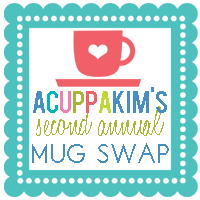 I've already been keeping my eye out for a unique little piece to swap and maybe a few extra to keep.

*smile*
I think that's all for now, yall. A busy Monday planned and rainy weather headed our way. Time for the rain boots! Hope yall have a good one!!!